Welcome to the 2022 Spiritual Growth Campaign's resource page.  Here you'll find links to everything you need to pursue this exciting study about how the Pre-Incarnate Christ played a vital role in His Father's Plan of the Ages.
Here's t
he book Pastor Louie has written for this campaign. It short but powerful 400 word daily devotions for each day of the Campaign. Linked to each week's topic it's an important part of your spiritual growth and understanding of this topic. It's available in both a print version and a Kindle version as well.
Here's a PDF copy of the workbook you'll need for our five Small Group Studies on this topic.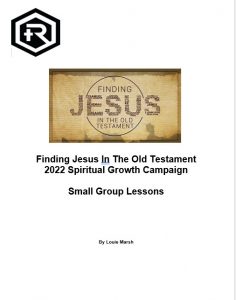 Weekly Small Group Videos
Each Sunday afternoon we'll embed that week's video here. You can also check out our YouTube Channel -RiverChurchParker.
Week One:
Week Two:
Week Three:
Week Four:
Week Five: